As a lifelong resident of the state, I've always felt that the beauty of Georgia nature is vastly underrated. Even local residents tend to forget the amazing amount of green space we're blessed with, offering excellent opportunities for recreation and adventure.
With hundreds of city parks, more than 40 state parks and five national parks located in north Georgia alone, the South's most bustling metropolis also boasts plenty of outdoor activities.
Whether you prefer relaxing activities like biking and rollerblading in well-maintained parks or more extreme adventures– rock climbing, spelunking in caves, zip lining high above the treetops– you can find a diverse array of options within an hour's drive of Atlanta's city limits:
Biking the Silver Comet Trail
Formerly the route of the Silver Comet passenger train, this paved recreational trail extends 61.5 miles from the northwest Atlanta suburb of Smyrna all the way to the Alabama state line. The city's first rails-to-trails project, the Silver Comet Trail is renowned for its spectacular scenic vistas as it traverses numerous trestles and bridges and offers direct access to Heritage Park, which features more than 14 acres of wetlands and the ruins of Concord Woolen Mills. Don't have a bike? No problem; just rent one from the Silver Comet Depot.
Fly Fishing the Chattahoochee River
Atlanta anglers seeking a break from the 9 to 5 often head north to the Chattahoochee River National Recreation Area, where cold waters released from the depths of Lake Lanier at the Buford Dam provide an ideal habitat for trout—not to mention wildlife like beaver, raccoons and white tail deer. Experienced fly fishing guides such as River Through Atlanta can help you find hush-hush hotspots near Bowmans Island and Settles Bridge, where you can immerse yourself in Mother Nature's pastoral beauty while trying to land a big one.
Hiking Panther Creek Falls
North Georgia is renowned for its amazing waterfalls, but this lesser-known recreation area located in the Tallulah Basin features one of the best, accessible via a picturesque six-mile trail through a forest filled with 100-foot-tall trees, flowering shrubs and moss-covered rock cliffs. Panther Creek drops nearly 1,000 feet from Stony Mountain on its way towards the Tugaloo River, with a series of killer cascades leading to two impressive waterfalls. The hike is long and somewhat challenging, particularly after a rain, but the dramatic view at the bottom is well worth the effort.
Rock Climbing in Tallulah Gorge State Park
Considered one of Georgia's "Seven Natural Wonders," Tallulah Gorge is around two miles long and features quartzite cliffs up to 1,000 feet high. The area has become increasingly popular with rock climbers throughout the Southeast, who are attracted by challenging routes with colorful names such as Digital Delight, Mescaline Daydream, Flying Frog and Punk Wave, all of which are rated 5.8 to 5.10 (with 5.15 being the most difficult). Tallulah Gorge State Park only allows 20 climbing permits per day (available at the park's Interpretive Center), and it's best to go with experienced guides. Companies such as Granite Arches Climbing Services offer instruction while helping to ensure your safety.
Rollerblading at Piedmont Park
Don't want to travel outside the perimeter for a day of outdoor fun? Then head to the 189-acre Piedmont Park, which is to Atlanta what Central Park is to NYC. A Midtown landmark for 115 years, the park has become a haven for rollerbladers, who find refuge gliding along its main roadway and the 10th Street Meadow Path while simultaneously enjoying some of the city's best people-watching opportunities. If you don't have your own gear, rent from Skate Escape, which is located right across from the park at the 12th Street entrance.
Shooting the 'Hooch
Made famous by country singer Alan Jackson, the Chattahoochee River stretches from northeast Georgia down through metro suburbs such as Roswell, and "shooting the 'hooch" on a raft, tube, canoe or kayak has been a local tradition for decades. Companies such as Chattahoochee Outfitters offer trips ranging from three to 6.5 miles, with shuttle service to return rafters to their cars after the trek is over. It's an excellent way to laze away a summer afternoon, with excellent scenery perfect for waterproof cameras.
Spelunking in Northwest Georgia
Thanks in part to the Southeastern Cave Conservancy, TAG—the area in the Cumberland Plateau where northwest Georgia meets Alabama and Tennessee—has lured spelunkers from around the world eager to explore its labyrinthine underground passages. Pigeon Mountain is particularly popular thanks to its vast network of limestone caves. Pettijohn's Cave has six miles of previously mapped passageways that often attract a healthy weekend crowd; the 13 miles of Ellison's Cave that have been explored include the 440-foot deep Incredible Dome Pit and the 586-foot deep Fantastic Pit. Underground areas can be extremely dangerous for people without proper equipment caving experience: Learn about the sport before embarking on your first expedition.
Traversing the Rope Course at Sky Hike 
From the ground, this popular attraction at Stone Mountain Park doesn't seem all that intimidating. But climb the stairs to the third level of this ¼-mile rope course—where you cross suspended wooden bridges, leap from one thin wooden slat to the next and balance on wiggling tightropes 40 feet above the ground as your hands sweat and legs shake—and you may find yourself questioning the "moderate" adrenaline rating above. Fortunately, there are also 12- and 24-foot-long trails for beginners (or those with a healthy fear of heights).
Whitewater Rafting on the Chattooga River
Designated by Congress as one of America's "Wild and Scenic" rivers in 1974, the Chattooga River (where much of Deliverance was filmed) offers challenges for rafters of all skill levels. For extreme adventure lovers, there's Section IV, where Class IV and V rushing whitewater speeds you down the river at a breakneck pace, climaxing with an invigorating plunge down the legendary Five Falls and Soc-em-Dog. For families, there's Section III, a beginner-friendly float trip with a Class IV ending at Bull's Sluice. Going with a tour outfitter such as Southeastern Expeditions will ensure maximum safety and enjoyment of your trek.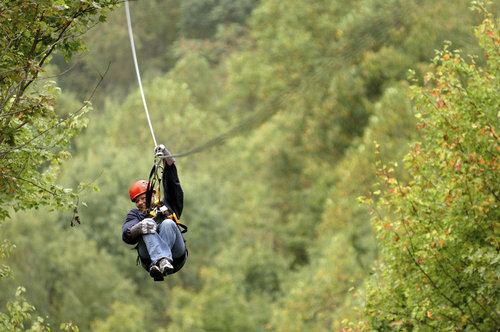 Ziplining in North Georgia
Picture yourself strapped onto a suspended cable high up in a lush forest canopy, soaring among the treetops, tiptoeing across two sky bridges and racing your friends as you zip over rushing river rapids. Inspired by their travels abroad, North Georgia Canopy Tour owners Kirk and Leah Watkins have recreated the consummate Costa Rican adventure in the foothills of the Appalachians. The pulse-pounding, mile-long zipline course takes you around and across the Ocoee River, providing spectacular views of scenery that will leave you breathless and begging for more.  –Bret Love
If you enjoyed our story on Georgia Nature & Outdoor Adventures, you might also like:
Best Food in Atlanta: 10 Dishes to Try Before You Die
The Tragic Love Story Behind Barnsley Gardens Resort
Top 5 Autumn Activities Around Atlanta