Over the next week, hundreds of thousands of revelers will head to Mardi Gras in New Orleans, the biggest and best carnival celebration in the country.
In the early '90s, I was introduced to this legendary party for the first time and it left an indelible mark on my future. For the next ten years, I made an annual pilgrimage to Mardi Gras as a tourist, until I finally decided to move to the Big Easy 14 years ago in order to enjoy the entire carnival season. Seriously, that's pretty much the main reason I moved to New Orleans!
Mardi Gras season is my favorite time of year. And now that I have children, I get to watch them grow up as part of this fantastical party every February. Since I've experienced it 25 times, as both a local and a tourist, I can say with some authority that these are things that nobody should miss come Mardi Gras time…
King Cakes 
When you're 20 years old and hanging out on the corner of Bourbon and Toulouse all day long (not that there's anything wrong with that), it's doubtful you'll come across one of these delectable cakes. But those in-the-know will start their day with a café au lait and a slice of King Cake.
These cinnamon and sugar-glazed cakes come traditional or stuffed with your favorite filling– praline, strawberry, Bavarian cream, apple, lemon and (my favorite) cream cheese. You can walk into any Rouses or Winn-Dixie grocery store in New Orleans and grab a King Cake. But there are dozens of great bakeries around town pumping out delicious, fresh-baked cakes.
Some of the best are Haydel's, Manny Randazzo's, Caluda's and Gambino's. For something a little different, try the French King Cake at the best bakery in town, La Boulangerie (4600 Magazine Street). Most of these bakeries will ship overnight for around $50 if you're salivating at home right now.
Balcony on Bourbon Street
When you get tired of getting pushed, shoved and spilled on, check out Mardi Gras from above. Take all those beads you collected from the parades, load them up in a bag and take them down to Bourbon Street.
The Royal Sonesta and other hotel balconies are reserved for corporate bigwigs, so don't even bother with those unless you have huge coconuts and can convince one of the fat cats to grab you a wristband. Most people will have better luck heading over to Tropical Isle, Lucky Pierre's or the Cat's Meow and greasing the doorman's palm with a ten-spot.
The view from above is stupendous, and the power you can wield over that sweetheart that catches your eye is nothing short of miraculous. What people will do for a $2 plastic trinket is simply unbelievable!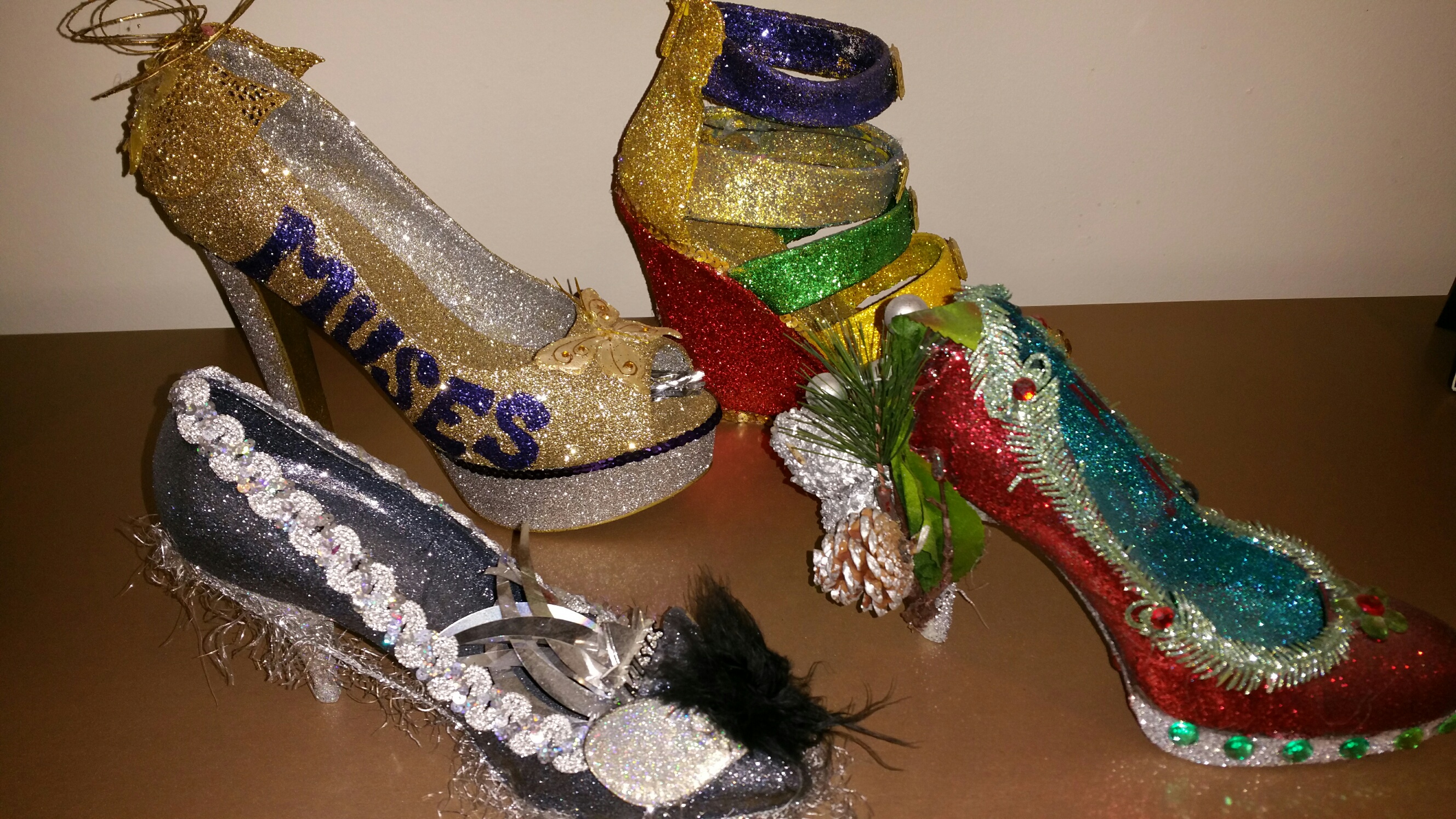 Krewe of Muses Parade on Magazine Street
Several years ago, the Mardi Gras gods decided to enlarge the routes for some of the parades, starting them further Uptown on Jefferson Avenue and Magazine Street before turning down Napoleon Avenue.
If you don't mind missing some of the earlier parades on the Thursday before Mardi Gras, you can find plenty of space to catch beads and enjoy the floats, bands and marching groups in a family-friendly environment. Bring your own chairs, ladders and ice chests… or don't. Either way, you'll have a great time watching the women of Muses reign from atop their satirical floats.
There are dozens of krewes that have been around longer than Krewe of Muses— who exploded on the scene back in the early 2000s—but no one else throws hand-designed glittery shoes of all shapes and styles to the throngs of screaming fans. Add to that the all-girl marching krewes– the Pussyfooters, the Cameltoe Lady Steppers, the Sirens and many more– showing off their dance moves in full costume, and you have an estrogen-enhanced party the whole family can enjoy.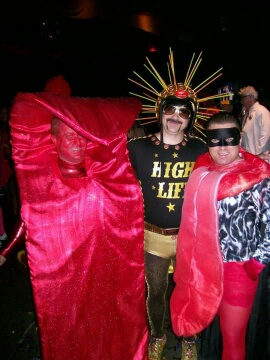 MOM's Ball
There are secret balls all over New Orleans, but there's one society that has risen above the rest.
For 35 years, the Krewe of Mystic Orphans and Misfits held a ball on the Saturday night of Mardi Gras with their own house band, The Radiators. Though the band has technically broken up, the party continues on. And while it may not be as decadent as when it was held at a VFW Hall in Arabi, it is still the place to be.
The ball is by invitation only. If you're dying to go, ask the doorman at your hotel, the bartender at Le Bons Temps Roule, or the crazy kats all decked out in costume. You never know if you'll be lucky enough to land an invite. My first MOM's Ball 20 years ago was a life-changing experience and, though the party has evolved, it's still my favorite night of Mardi Gras.
Orpheuscapade Ball
NOLA legend Harry Connick Jr. started a formidable Krewe that rolls down the Avenue on Lundi Gras and ends at the Convention Center.
Their Ball is a black tie BYOB affair that starts at 7pm and ends at 3am. Connick usually performs along with the honorary captain. The year I rode in Orpheus, we enjoyed a short set by Stevie Wonder. This year it's country star Dierks Bentley.
Bacchus, Zulu and Endymion may have bigger balls, but none are open to the public, with tickets available through the Krewe of Orpheus website. Want to ride in a parade? You can do that too, if you have a spare $2000 lying around. That's about what it costs for a membership and a modest throw package.
Galactic at Tipitina's on Lundi Gras
Black tie affairs not your thing? Head over to the world-famous music club Tipitina's for their annual Lundi Gras show featuring Galactic, which starts around midnight and doesn't end before the sun rises.
The local jazz-funk band hasn't really had an official lead singer. But, over the last few years, Corey Glover (of Living Colour fame) has added some strong vocals to this brass 'n' beats mass. The upcoming New Orleans Jazz Fest features Galactic fronted by the amazing vocals of Macy Gray, so you never know who will take the stage and what guests might pop up at this funky show.
No place to stay? No problem. You can party all night, walk over to Mrs. Mae's for a refresher and start your Fat Tuesday with a bloody Mary and some spicy pickled beans.
Rex and Zulu Parades
If you say you've been to Mardi Gras and never stayed 'til Tuesday, then you have no idea what it's all about. This is the day the locals look forward to, and it's evident in the creative costumes and weary faces.
The day begins with the Zulu Social Aid & Pleasure Club's Zulu Parade, which winds its way through Central City before heading downtown on the traditional route. What began as a satirical parade poking fun at the traditional white-only krewes has grown in popularity over the years, as parade-goers tussle for a prized decorated coconut thrown by a black rider dressed in black face.
Following the Zulu parade is Rex, the secretive king of Carnival, who reigns over the Rex Parade. Catch a glimpse of Rex and then head into the French Quarter toward Jackson Square, where you can people-watch the day away.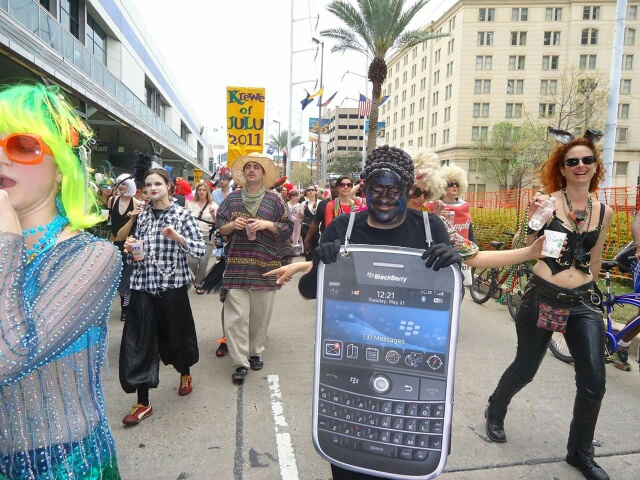 Krewe of St. Anne and Krewe of Julu Parades
Whether you start in the Bywater or start in the Irish Channel, these two parades guarantee you'll see some funky, crazy, weird and wild characters dressed up in some of the most unusual costumes you've ever seen.
Brass bands gather at each starting point to lead the huge groups on a walking parade through their respective neighborhoods. Though the walks may seem random, both krewes eventually make it downtown to see Rex, and then to pay their respects to the recently departed by sprinkling their ashes in the Mississippi River.
By mid-afternoon, the parades have trekked through the French Quarter, and those that are still standing usually end up on Frenchmen Street until the sun sets and the party dwindles down.
Annual Bourbon Street Awards
It's nearly impossible to do everything there is to do on Fat Tuesday, but one thing definitely worth checking out is the Gay Mardi Gras.
For 51 years, the lower French Quarter has been host to the most outlandish costume contest in the world. Prizes are awarded for best in show, best drag, best leather and best group. Though the booty is a pittance, the costumes are completely over-the-top in both size and style.
From high noon until around two thirty, dozens of men strut their stuff from Bourbon and Dumaine down to the stage in front of Club Oz. Bianca Del Rio is back this year as emcee, livening up the crowd as they gawk at plumed costumes that are sometimes so big, it is impossible for them to walk down the street without hitting a stop sign. One drawback, though: It's packed so tight down there that once you're in, there's no turning back.
Mardi Gras Indian Parade
Uptown, Downtown, Ninth Ward, Sixth Ward… it don't matter where you from. Fat Tuesday is the day that all the Mardi Gras Indians gather in their new suits to show off their hard work and dedication to the thousands of friends, family and strangers who follow the different tribes through the streets of their respective neighborhoods until they all unite for a throwdown under the overpass.
The streets of the historic Treme neighborhood are awash in fabulously colorful beaded and feathered costumes from the different tribes, including the Wild Magnolias, The Yellow Pocahontas, and the Creole Wild West.
This year's parade is scheduled to include a special tribute to the Big Chief of the Wild Magnolias, Mr. Bo Dollis, who sadly departed this world in January. Dollis was famous for uniting the traditional Indian chants with brass band funk and creating his own musical style. He is survived by his son, Lil Bo, who carries on the family tradition.  –Shane Finkelstein
Follow Culturated on Facebook and Twitter for more news
on entertainment, culture & travel! 
If you enjoyed our Insider's Guide to Mardi Gras in New Orleans, you might also like: 
ALABAMA: The Mobile Carnival Museum & America's First Mardi Gras
LOUISIANA: The Best Oysters in New Orleans
LOUISIANA: Charmed at New Orleans' Historic Voodoo Museum
LOUISIANA: Mardi Gras Indians Celebrate Super Sunday in New Orleans
LOUISIANA: Cajun Food Tours in Lafayette
INTERVIEW: Ben Jaffe on Preservation Hall Jazz Band & New Orleans