Take a heaping dose of 1969's swinging romp Bob & Carol & Ted & Alice, add a healthy splash of the middle-aged-parents-trying-to-keep-things-fresh spice of NBC's Up All Night and a dash of Inside Out's struggling-to-find-your-place-in-a-new-city ennui, then top it with a warped indie film twist.
The result is this refreshingly original sex comedy written and directed by Patrick Brice and produced by the Duplass Brothers, who previously collaborated on Creep.
Adam Scott (Parks & Recreation) and Taylor Schilling (Orange is the New Black) star as Alex and Emily, a married couple who relocate to a trendy section of L.A. from Seattle. He's a tightly-wound stay-at-home dad with self-esteem issues, she's a type-A breadwinner. Though generally happy, both struggle with boredom in the bedroom and feeling overwhelmed with loneliness from being strangers in a strange land.
Things start looking up when they meet Kurt (Jason Schwartzman), a free-spirited hipster who sees his son bonding with theirs at a local park. Charming, quirky and seemingly harmless, the intriguing oddball urges them to join him and his wife for a playdate and pizza dinner. From the moment they walk into his palatial abode and meet his gorgeous French actress wife, Charlotte (Judith Godreche), their night becomes a series of unexpected, at times unnerving adult adventures.
It's difficult to discuss the details of their drug-addled descent down the rabbit hole of kink that ensues after Kurt sings the kids to sleep with a lullaby without wandering into spoiler territory. Suffice it to say that it involves colorful paintings of a certain body part, videos of a fetish you've never seen depicted in a mainstream film before, full-front nudity that's shocking in more ways than one, and myriad other salacious surprises.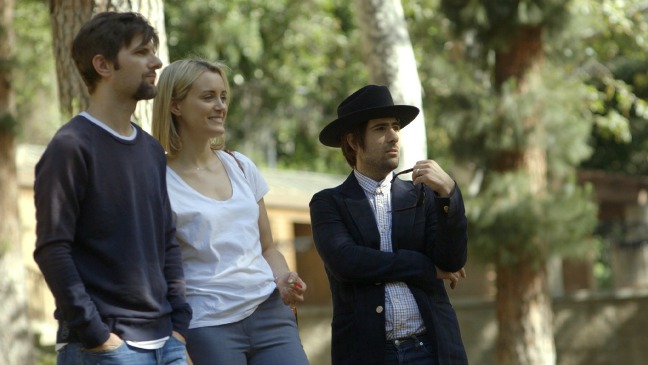 Brice's script is slight on depth of character development, and some of the situations seem more designed to elicit shock value than to drive the story forward. But the lead actors are all perfectly cast (Scott and Schwartzman prove particularly strong), and the unique angle and short run-time (around 80 minutes) ensure you never get bored. Though light on emotional impact, the experimental approach and winning performances make this an enjoyable sex farce.  –Bret Love
RATING: R (strong sexuality, graphic nudity, language and drug use)
GENRE: Comedy
DIRECTOR: Patrick Brice
STARS: Adam Scott, Taylor Schilling, Jason Schwartzman
STUDIO: The Orchard