I've interviewed two Walking Dead cast members in the past– IronE Singleton (T-Dog) and Emily Kinney (Beth)– and both of their characters died a few months later. So now, anytime I get an offer to interview one of the show's stars, I watch it with a wary eye for clues that they'll be killed off soon.
For those who haven't watched cable's #1 show (which draws around 14 million viewers a week), Josh McDermitt plays Eugene, a mullet-wearing former science teacher who crafted "a top-shelf lie to which a person with strength and heroism could apply their talents." In short, he tricked his traveling companions into believing he was a brilliant scientist who could reverse the effects of the airborne virus and save the world, all so that the survivors would protect him from death-by-zombie.
Needless to say, Eugene probably doesn't rank on most people's list of favorite Walking Dead characters. But both the original comic book and the TV show's stunning Season 6 premiere episode suggest that he may be on his way to redemption before the Grim Reaper comes a-calling. Whether that will be sooner (as my interview history suggests) or later (as the comic suggests) is anyone's guess.
But I was nonetheless thrilled to talk to McDermitt, a former standup comedian, about his hardcore Walking Dead fandom, his take on what makes Eugene tick, and what Season 6 has in store.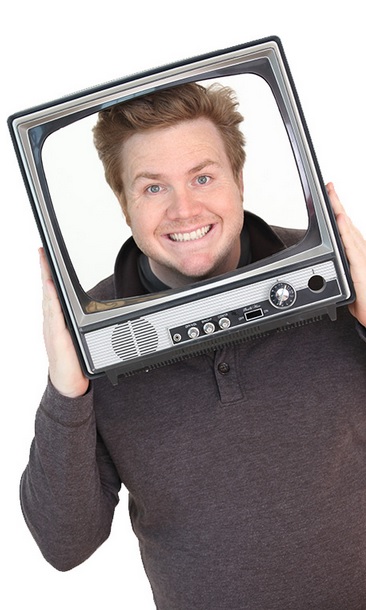 Josh McDermitt, Comedian via Josh McDermitt
You got your start doing improv comedy in L.A. and you were a contestant on Last Comic Standing. So your career was headed in a different direction before The Walking Dead?
Yeah, I was strictly a comedian. I was on a sitcom. Every commercial I booked was comedic. But I always knew I could do drama. When I told my agent to start booking me for drama auditions, The Walking Dead was the first thing that I went out for.
Were you a fan of the show at that point?
I was a HUGE fan. My friends and family would all get together on Sunday nights and watch the show. It was definitely one of my favorite shows, Mad Men was another, and I ended up booking a recurring role on that as well. I only want to work on shows that I'm a fan of.
How did you get the role on The Walking Dead?
I did a straight-up audition. They don't tell you who the character is and they give you material that's not from the script. It was all very secretive, and I didn't know who I was reading for. They are very secretive because they don't want the information to get out. It's cool that they do that, because it protects the show.
How did you get a handle on Eugene's character?
What I love about him is that he's the most unlikely of survivors. Daryl, Michonne and Abraham are ripe for survival in this world, but the fact that this guy relies on other people to survive from day-to-day is fascinating to me. I usually play dumb characters who like to screw off, so this was opposite of anything I've done before, which drew me to the role. Also… the fact that it was on my favorite fucking show! Eugene felt like his only way to survive was to manipulate and lie. He's an extremely intelligent guy, which is why he's been able to keep living for so long. I hope that Eugene has many more years ahead in this apocalypse, but we'll see. Anyone can go at any moment on this show which keeps things exciting.
When I told friends I was interviewing you, they seemed OK with the possibility Eugene might die soon. How do you feel about the way fans feel about Eugene?
The moment I started doing interviews, I've been hearing "as soon as I interview someone, they die." So I'm not worried about that. Who knows, I could be dead right now and you'd have no idea! Fans didn't love Eugene at first, but they've come around. Fans are like, "He's such a horrible person," yet they don't care that Rick bit the neck out of some guy and killed him! But I love the fans, and I'm a fan myself. It's funny– the fans spar with me a bit at conventions, and they forget I know just as much if not more about the show than they do. So I try to shut them down as much as I can, but I love that the fans care so much about the show.
As a fan, do you like the fact that the show runners are taking their own creative direction and not seeing the comic's storyline as a definitive path?
Absolutely. I like that it keeps us on our toes. There are things you can do on the show that you can't do in the comic, and vice versa. Rick, in the comics, is missing one hand. They can't do that to Andrew Lincoln on the TV show because it would make everything harder to film. It's funny when people say that they know what's going to happen on the show. You don't know anything that's going to happen! Daryl is not even in the comic. Andrea is alive in the comic, but dead on the show. Carol's made it much farther than she did in the comic. But it all goes back to how much people care about this show. This is the fans' show.
Can you talk about filming the first episode of this season?
I loved the first episode! I read the script and didn't understand the past/present timelines. We were on set, asking "Where is this in the flashback? How does this fit in?" It was hard to keep things straight. I'm glad that they were able to turn the flashback sequences into black and white to keep the story clear. It was such a brilliant move. The scope of the episode was magnificent and enormous. We had so many Walkers, and will continue to deal with them this season. I love that the producers are trying to top themselves every season, and keep it fresh and organic. It's exciting to be part of a show like that. Andy Lincoln and I talk about it a lot: It feels like every episode this season is intense enough that it could be a season finale.
I know you can't tell me any specific plot points, but what are your general thoughts on this season's storyline?
It's a great story! I heard (current showrunner) Scott Gimple say on Talking Dead that season four was heavy on the characters, season five was all action, and season six is a perfect blend of the two. I thought that was a perfect way to describe it. We get to know these characters more and see them kick ass, and there's a great story that's bigger than anything this show has done. I'm really proud of it. We've gone so big with this season, it's now uncharted territory. I hope the fans respond to it and love it. As a fan who loves the show, I really love this season.
You're attending the Walker-Stalker Con at the end of October. What's it like to be surrounded by TWD fans?
It's super incredible! The thing I like about them is that they're very fan-centric. There are people I meet at different Walker-Stalker Cons who become friends while standing in line, or because they had adjoining rooms in the hotel. You end up seeing people dressed as you and people dressed as other characters. It's this family-style atmosphere, and it's so much fun.
What are your thoughts about my native state of Georgia? I know you spend a lot of time here.
I love Georgia! I poke fun at it because I'm from Arizona originally, and I make fun of people and places that I love. The people of Georgia are incredible, unlike anybody else in the country. They welcomed this entire show with open arms. We've infiltrated their neighborhoods and displaced people so we could shoot this stupid little zombie show, and the people have loved it. It doesn't matter where we go out in Georgia, the fans have been incredible. I will say that I hate the weather from June to mid-September with every ounce of my body. But after that, it's great! With the leaves changing, this time of year is really special to me because we came out at this time of year in season four. Last season, when we shot through the summer, it was one of the worst things I've ever put myself through. But no one else is complaining, so I try not to complain. So yeah, the people are awesome but the weather sucks! (Laughs) -Bret Love