Based on Cheryl Strayed's memoir of the same name, Wild tells the story of a woman who is thoroughly lost in life and decides to find herself by hiking the Pacific Crest Trail, which runs from California's border with Mexico 2,663 miles north to Manning Park, British Columbia.
The fact that Strayed (played by Reese Witherspoon, who also produced the film) embarks upon her journey to self-healing with no training, no preparation, and barely even a basic understanding of what's involved in the arduous 5-month trek tells us a lot about the state of Strayed's psyche at the time.
Adapted for the screen by Nick Hornby (High Fidelity, About A Boy), the film interweaves scenes of Strayed fumbling her way through the fundamental basics of backpacking with flashbacks that gradually reveal how her life became such an utter shambles– the untimely death of her beloved mother (Laura Dern), a subsequent addiction to casual sex and hard drugs, and the ultimate dissolution of her marriage to Paul (The Newsroom's Thomas Sadoski).
The irony is that her reckless, destructive behavior doesn't necessarily end with her ambitious through-hiking attempt. While the film wants us to admire Strayed for her solo travel chutzpa, her ill-considered adventures lead to potentially dangerous encounters with a local farmer, a lascivious hunter and even a lonely park ranger.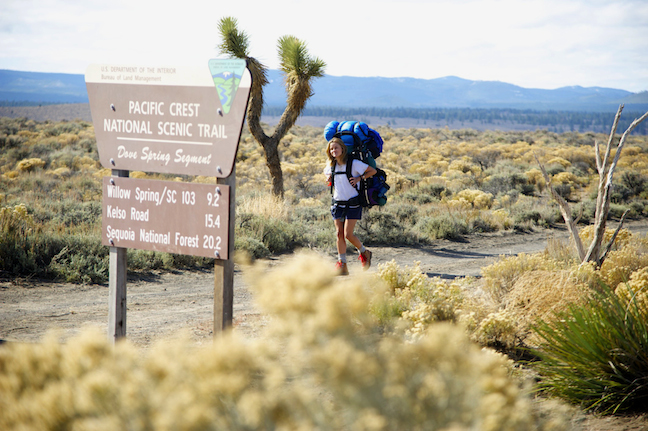 But of course this is ultimately a story of redemption, as she gradually exorcises the demons that haunt her and emerges from the journey a stronger, healthier version of her old self. This is the role of a lifetime for Witherspoon, who subtly conveys strength, stubbornness, fault and folly… often within the same scene.
But the supporting cast is equally strong, with Hornby's script and Jean-Marc Vallée's direction making this one of 2014's best dramatic films. In the end, Wild is a soul-stirring adventure about the transformative power of travel, and how sometimes changing your life is all about being brave enough to take the steps you fear the most.   –Bret Love
RATING: R (for sexual content, nudity, drug use, and language)

GENRE:  Drama

DIRECTED BY:  Jean-Marc Vallée

WRITTEN BY: Nick Hornby
MAIN CAST: Reese Witherspoon, Thomas Sadoski, Michiel Huisman, W. Earl Brown & Gaby Hoffman
STUDIO: 20th Century Fox