Crime writer-turned-TV/movie producer George Pelecanos has nearly 20 novels and one novella to his name, and has won Edgar and Writers Guild of America Awards for his work on HBO's The Wire. The short story format is a new one for Pelecanos, but his writing is just as effective with the shorter word count restrictions he's given himself in The Martini Shot.
As in his influential "DC Quartet" book series, which earned favorable comparisons to James Ellroy, most of Pelecanos' characters here are growing up in the D.C./Maryland area, surrounded by crime. And though not necessarily all of them are obvious protagonists, you can't help but root for them.
One of the few exceptions is the story of a middle class couple, who adopt three children and raise them alongside their biological child, only to see most of them drift away or get lost in a world of drugs. It is unlike many of the crime-heavy pieces the author is typically associated with, but he ultimately proves that his knack for writing great characters is not strictly limited to one genre.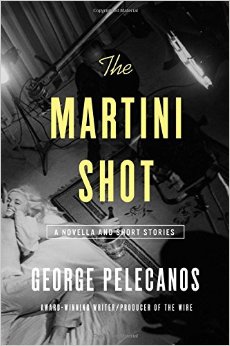 The eponymous novella, which is probably the most absorbing piece in the book (which is saying a lot considering that there are no weak stories in this collection), focuses on a street-smart producer working on location on a cop TV series in an unnamed Southern city.
The producer takes it upon himself to solve the murder of a local crew member and friend. Given Pelecanos' second career, as a writer and eventual producer on influential shows such as The Wire and Treme, the story is given added reality.
If you have yet to read any of his books, The Martini Shot is the perfect intro to one of contemporary fiction's most consistently enjoyable crime writers. –John B. Moore