The fact that Julianne Moore, one of the greatest working actresses in show business, still feels under-appreciated after over 25 years of daring, startling work is another testament to just how good she is.
If she finally wins that Oscar for her new film Still Alice after all these years (and it looks like she might), her march to the Kodak stage will feel in some ways like a victory lap. Moore won't just be winning the prize for playing Alice Howland. That's just a mere technicality.
Moore will be winning the Oscar she's been due for all of her previous nominated performances, including addict porn star Amber Waves in Boogie Nights, put-upon Cathy Whittaker in Far From Heaven, suffering Sarah in The End of the Affair and frustrated Laura Brown in The Hours.
This is an actor who's given us portrayals as brazen, various and wonderful as identical twin cousins in As the World Turns, a different take on Clarice Starling in Hannibal, a cheating wife in The Kids Are All Right, a woman allergic to the world in Safe, the vaginal artist in The Big Lebowski and Sarah Palin in HBO's Game Change. And she famously delivered an onscreen monologue with her fire-red crotch on full display in Robert Altman's Short Cuts.
Moore deserves a damn truck full of Oscars. Heck, considering how grand she was in Far From Heaven alone, even that doesn't seem like enough. Frankly, every fan of good cinema should write her a personal thank-you note for everything she's given us over the years.
All that being said, Still Alice, which was directed by Richard Glatzer and Wash Westmoreland, is not her best movie. Not by a longshot. Yet, as always, she is excellent in it.
Still Alice is basically the sort of disease-of-the-week movie that networks used to air in prime time. The disease on display here is early onset Alzheimer's. The patient is Alice Howland, an erudite linguistics professor at Columbia University. The tragedy is that she's losing all her words, her intelligence, her memories and her defining characteristics. She wants to maintain her dignity and her integrity for as long as she can.
It's a noble fight she cannot help losing.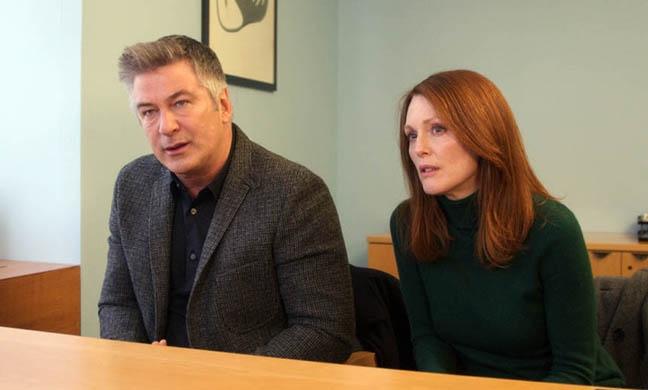 Her family is understanding, but horrified by her deterioration. Her husband, played by Moore's 30 Rock co-star Alec Baldwin (here without any Boston accents), vows to stay by her side and love her. Her well-to-do children, played by Kristen Stewart, Kate Bosworth and Hunter Parrish, beam at her and cry while scared to death about what all this might mean for them. Stewart, in particular, is given more layers to play, and she does admirable work here.
Still Alice plays out by the numbers, feeling mostly like a story we've already been told before, and better. Away from Her, starring Julie Christie, was a much more harrowing, interesting take on Alzheimer's and the devastating effect it can have on a marriage.
Moore's greatest moments include the scene where she delivers a speech to an Alzheimer's organization while struggling to be able to read it, which effectively elicited sobs from the audience. Another key moment comes late in the film when Alice watches a film of herself, and the audience is allowed to see just how vast (and fast) her decline has been.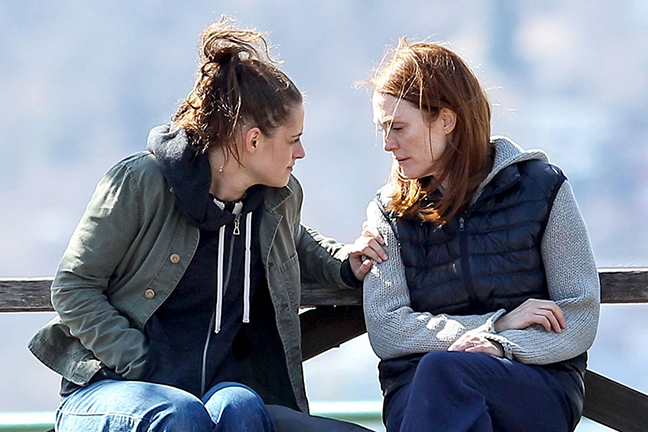 If this is the movie that gets Julianne Moore an Oscar win, it will feel a bit like it did when Al Pacino won for the hideous Scent of a Woman, instead of for his iconic work from the 1970s. Or when Martin Scorsese won for The Departed, rather than for one of his truly influential masterpieces.
It's a consolation. It's a righted wrong. But, the the end, it's still a cheat.  –Benjamin Carr
RATING: PG-13 for mature thematic material, and brief language including a sexual reference
GENRE: Drama
DIRECTED BY: Richard Glatzer and Wash Westmoreland
WRITTEN BY: Richard Glatzer and Wash Westmoreland, from the novel by Lisa Genova
STUDIO: Sony Pictures Classics