Creating a list of the "best" of anything is an act of sheer hubris that practically begs for criticism. According to TripAdvisor, metro Atlanta currently has more than 3,000 restaurants, and any comprehensive guide to the city's best bites would require tasting around 50,000 dishes. Since that would be impossible, let's consider this a mere sampling of the Best Food in Atlanta:
ABATTOIR- Butcher's Menu
Top Chef alum Hector Santiago's secret "Butcher's Menu" was a perfect example of the adventurous culinary streak he brought to Anne Quatrano and Clifford Harrison's meat-centric Abattoir. Promoted only via word-of-mouth and social media, his offal-based appetizers changed nightly, featuring ingredients ranging from common (liver), to rare (sweetbreads), to challenging (brains). Santiago sadly moved on to open his own project at Ponce City Market a few months back, but new executive chef Joe Schafer (formerly of King + Duke) has kept the Butcher's Menu alive, offering unique flavors you won't find anywhere else in town, such as Bone Marrow Bourgignon with mushroom on fresh-baked sourdough.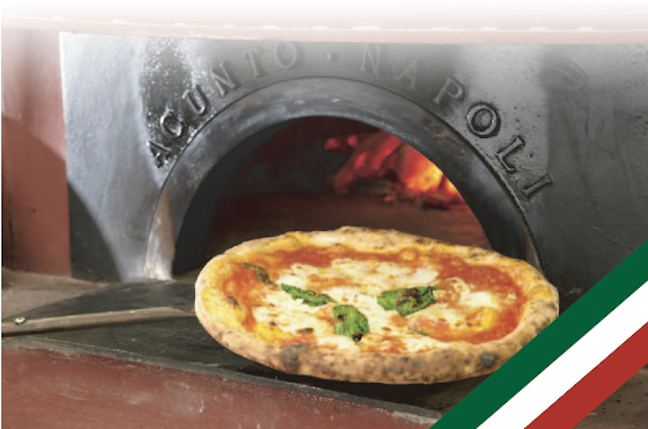 ANTICO PIZZA NAPOLETANA- Margherita D.O.P.
Although his restaurant has no valet parking, no fancy interior design, not even a proper seating area to speak of, Giovanni Di Palma has had Atlanta foodies raving for years. The New York native makes pizza in the Verace Artigianale (True Artisan) style, using techniques learned during a pilgrimage to his ancestral Italian village. Antico is authentic to the extreme, adhering to strict guidelines: Di Palma imports flour, San Marzano tomatoes and fresh mozzarella di bufala from the Campania region of Italy every week, and cooks every pizza in 10,000 pound ovens hand-made in Naples. The result is a perfect balance of crispy and chewy, bursting with robust, earthy flavors, with the Margherita D.O.P. a marvel of simplicity that tastes like the culmination of hundreds of years of culinary refinement.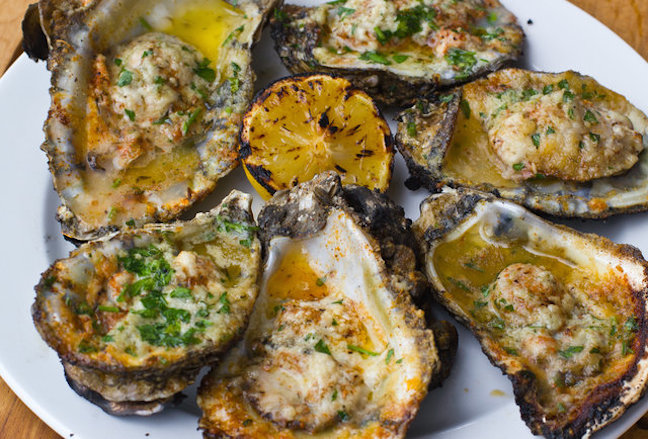 C&S SEAFOOD & OYSTER BAR- RC's Char-Grilled Oysters
With a career that includes stints at the Ritz-Carlton, Brasserie Le Coze, and Atlanta Fish Market, C&S co-owner/chef Rich Clark is known for his love of classic New York and Parisian-style brasserie cuisine. But for the seafood hotspot's popular Char-Grilled Oysters appetizer, the Alabama native returned to his Southern roots for inspiration. "I love grilled oysters," he confesses, "and ate them on family vacations every year in St. George Island. After I took a trip to New Orleans, the motherland of char-grilled oysters, I decided to combine Apalachicola oysters with NOLA flavor." The result– fresh-shucked oysters sprinkled with blackening spice, garlic butter and Parmesan cheese– is as delicious as it is simple, tasting a bit like escargot, but with a softer texture.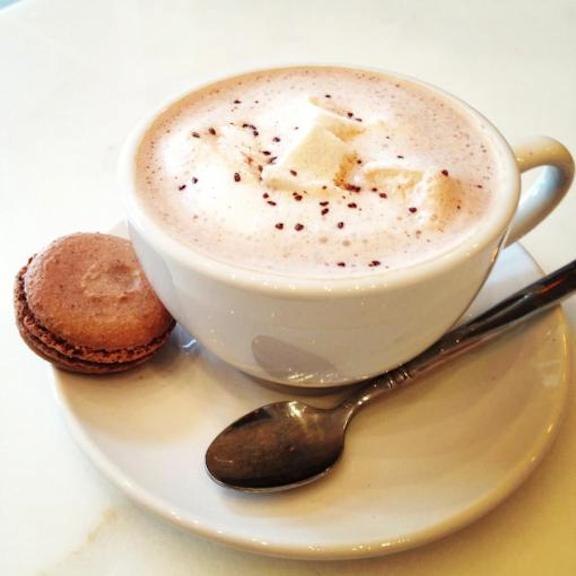 CACAO ATLANTA- Aztec Sipping Chocolate
Designed with Old World allure by founder Kristen Hard, Cacao feels like Atlanta's version of the quaint European shop from the film Chocolat. Hard's small batch approach to sweets has made her one of the most critically acclaimed chefs in America: In 2012, Cacao was named Best Chocolate Shop in the World by Travel and Leisure and Best Chocolate in America by Bon Appetit. Her Aztec Sipping Chocolate– a zesty blend of Cacao's bean-to-bar chocolate, locally sourced milk, sugar and a dash of secret Aztec spice– was named Best Hot Chocolate in the U.S. by Food and Wine. It's an intense, thick and remarkably rich drink, with just enough chili heat to get your blood pumping even on the coldest winter day.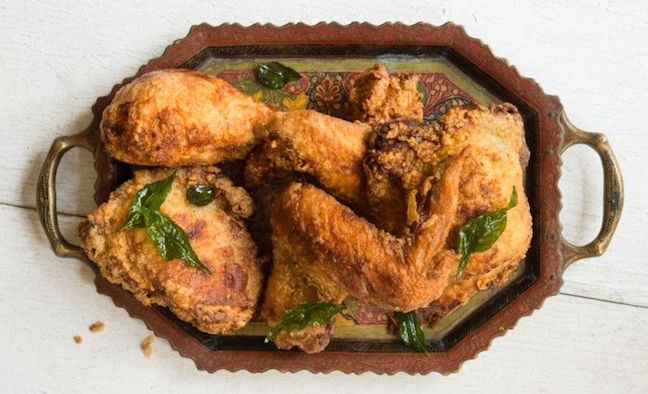 SPICE TO TABLE- Kerala Fried Chicken
Nominated for a James Beard Award for Best New Restaurant and named one of Bon Appetit's Top 50 Best New Restaurants in its first year, the late, lamented Cardamom Hill found owner/chef Asha Gomez combining influences from her native South India with that of the American South. The fusion is revelatory, showcasing surprising similarities (see: focus on rice, stews and comfort food). Now she's brought it to her more casual Indian pattiserie, Spice To Table. Nowhere is this culinary connection more apparent than in Gomez's Kerala Fried Chicken, which has been praised as one of the country's best fried chicken dishes by Bon Appetit and the Miami Herald. Perfectly balancing sweet and spicy flavors, the chicken benefits from a 24-hour brine in Chef Asha's secret spice blend, and is drizzled with coconut oil and fresh mango sauce and finished with roasted curry leaves.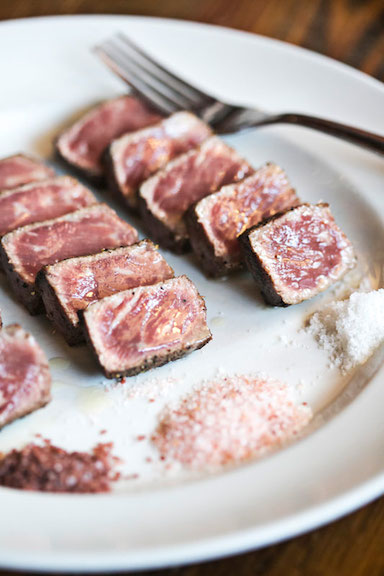 LITTLE ALLEY STEAK- Progression of New York Strip
Little Alley offers four flavored butters, four sauces, and an array of "enhancements" for their steaks. But with beef exquisitely hand-selected, cut and aged by Meats By Linz (one of Chicago's oldest and most respected butchers), you honestly don't need them. Their Progression of New York Strip includes 4 ounces of wet-aged USDA Angus beef, USDA Prime beef and dry-aged USDA Angus beef, all cooked using the  sous vide method. "By cooking sous vide," explains culinary director Bob McDonough, "we're able to control the temperature to the exact degree, resulting in perfectly cooked steak every time. This method of cooking also eliminates the 'graduation of doneness,' resulting in a medium rare steak from end to end." By sampling three kinds of beef in a "steak flight," diners are afforded an appreciation for the complex flavor profiles found in the different grades in aging method, making this meal a carnivore's dream come true.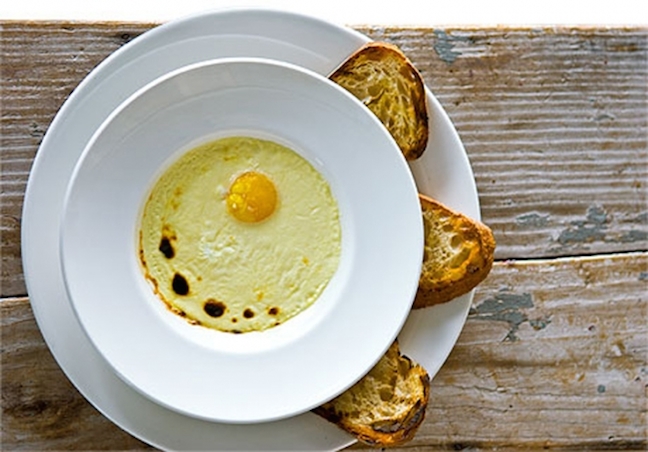 MILLER UNION- Farm Egg Baked in Celery Cream With Rustic Bread 
A semifinalist for the James Beard Foundation's Best New Restaurant Award, owner/chef Steven Satterfield's farm-to-table restaurant prides itself on connections to local farmers, with a menu based around the week's harvest. Satterfield's Farm Egg Baked in Celery Cream is a homestyle favorite, emphasizing freshness and simplicity. "In a saucepan," he explains of the cooking process, "we 'sweat' chopped celery with sweet onion, shallot, bay leaf, thyme and peppercorn. Once the vegetables have softened, fresh cream is added. After heating for 30 minutes, the cream is strained and the solids removed. The egg is baked in this flavored cream for 4 minutes in a convection oven, and then finished in the broiler." Served with crusty grilled sourdough bread, the result has been an ATL foodie fave for years.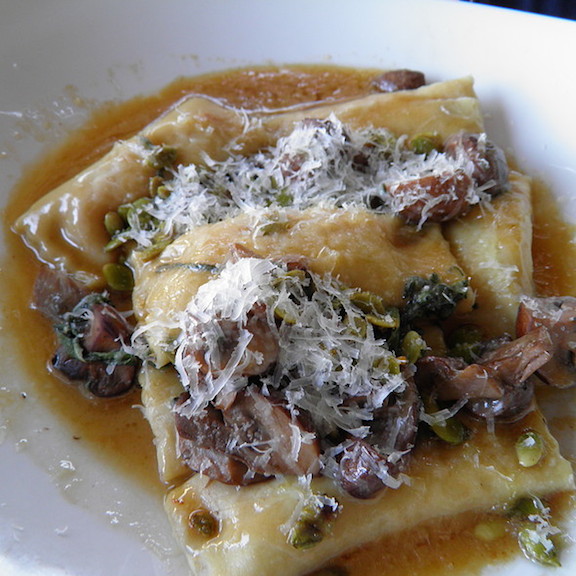 SEED KITCHEN & BAR- Sweet Potato Ravioli
In recent years, as "fast casual" has become Atlanta's hottest culinary buzzword, more and more of our best upscale chefs have moved out to the 'burbs. Owner/chef Doug Turbush's Seed Kitchen is a perfect example, offering a refreshing mixture of happening hotspot and neighborhood bistro, with a menu that blends Southern cuisine with myriad international influences. Turbush's Sweet Potato Ravioli was originally among his nightly specials, but it became so popular he had to add it to the seasonal menu. The decadent dish features slow-roasted sweet potatoes spiced with raz el hanout (a Moroccan spice blend), honey, mascarpone and parmesan cheese, which is stuffed into handmade pasta and topped with candied salted pumpkin seeds, sautéed mushrooms, sage, and soy brown butter. "This is one of those dishes that the guests keep asking for," Turbush says. "It hits the right balance of sweet, salty, earthy and herbaceous. It's a labor-intensive dish, and I think you can just taste the time and love we put into it."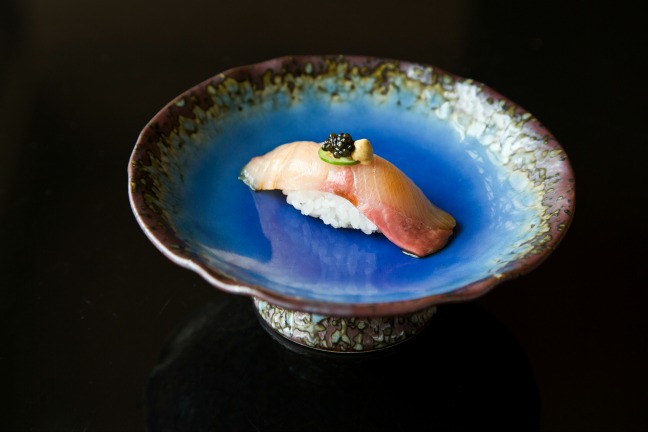 UMI- Otoro Caviar
It seems somehow fitting that the logo for this modern Japanese restaurant is a simple drawing of a man playing a fish like a musical instrument. Owner/chef Fuyuhiko Ito, formerly of MF Sushibar, is a beloved master of his craft, crafting symphonies of flavor from an elegant sushi bar stage. UMI opened in May to rave reviews, with exquisite interior design by artist Todd Murphy and an expansive menu Ito crafted with his wife (and former MF pastry chef), Lisa. But his sushi is the star of the show, with the Otoro Caviar ngiri a one-bite masterpiece. Listing its ingredients– Otoro (the fattiest tuna), rice, truffle soy, serrano, cilantro and caviar– cannot possibly convey its robust combination of flavors, or the way the tuna seems to melt in your mouth like butter. But one taste will leave you begging for an encore.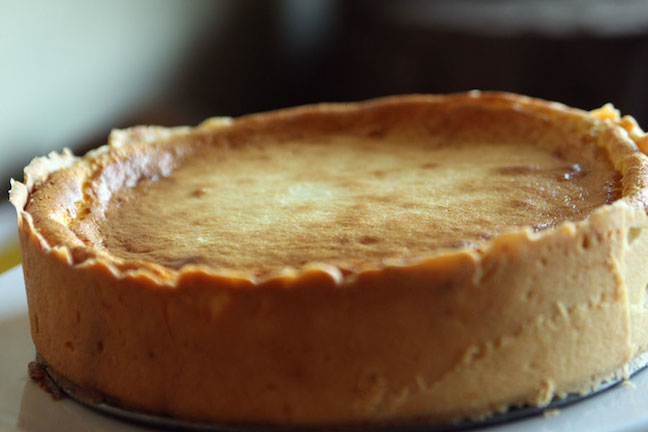 VINGENZO'S- Torta Caprese
Owner/chef Michael Bologna's loving tribute to the old-world Neapolitan cuisine he grew up on earned him the James Beard Foundation Award For Excellence, and he was invited to prepare dinner at the James Beard House in his native NYC back in 2011. His made-from-scratch Italian fare has foodies from around the city making the pilgrimage to his classy-but-casual restaurant, where an open kitchen design and Old School ambience make guests feel like part of the familia. Entrees are uniformly excellent, but the Torta Caprese– a rich gluten-free chocolate cake– is out of this world. Instead of flour, the cake uses ground almonds and chocolate as a base, adding butter, sugar, eggs, whipped meringue and a little house-made lemoncello to create a sweet with plenty of flavor, but a lot less guilt. Trust us, it's well worth the drive.  –Bret Love
If you enjoyed our post on the Best Food in Atlanta, you might also like: 
Top 5 Autumn Activities Around Atlanta
A Weekend in the North Georgia Mountains