Angelina Jolie's second directorial effort clearly aspires to be the sort of inspirational story of "Survival, Resilience and Redemption" that Oscar dreams are made of. The problem lies in the "Unbelievable True Story" of American war hero Louis Zamperini (played earnestly by Jack O'Connell), which plays like an endless exercise in patriotic American torture porn.
The film certainly starts off with a bang. Zamperini, the bullied problem child son of Italian immigrants, turns to running as a way to burn off excess energy. He winds up running the 5000-meter race in the 1936 Summer Olympics in Berlin, where a strong finish leads to a personal meeting with Adolf Hitler.
In 1941, during World War II, he enlists in the US Army Air Forces, quickly rising to second lieutenant. Two years later he's deployed on a B-24 Liberator bomber, which is badly damaged during combat over the Japanese-held island of Nauru.
He and his fellow crew members are given another, notoriously defective plane and ordered to conduct a search for a lost Allied aircraft and its crew. Mechanical difficulties cause the plane to crash into the ocean, killing 8 of the 11 men on board. Only Zamperini and his buddies Phil (Domhnall Gleeson) and Mac (Finn Wittrock) survive.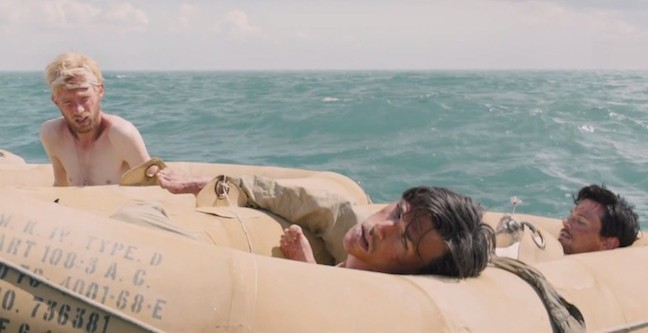 The trio spends the next 47 days on a raft, surviving on rainwater, small fish and the occasional albatross. They fight off numerous shark attacks, a horrendous storm, machine gun strafing from a Japanese bomber, and the worst sunburn you've ever seen. Not all of them make it out alive, and those who do are ultimately captured by the Japanese Navy in the Marshall Islands, where they're mercilessly tortured. And this is just the film's halfway point!
Though Unbroken is 137 minutes long, the languid pacing makes it feel much, much longer. There's almost too much story here, with each section arguably worthy of its own film in the hands of a more experienced director. Watched in one sitting, the overall effect becomes numbing, with an odd sense of cool detachment where there should be raw emotional passion and heart.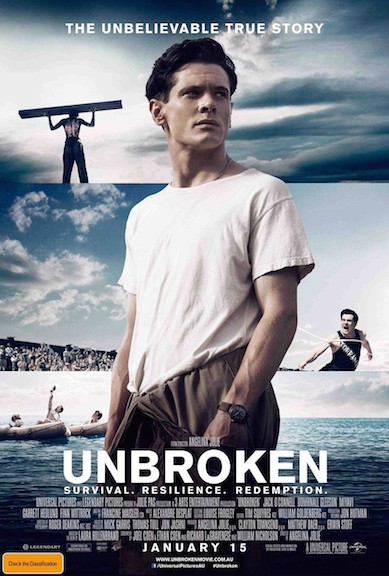 There's no denying the potency of the incredible life story being told here. But, from the ensemble of writers (including a rewrite by the Coen Brothers) to Jolie's strangely conventional directorial approach, there's simply not much oomph to the telling.
Despite Roger Deakins' stunning cinematography and fine performances by Gleeson and Japanese pop star-turned-actor Takamasa Ishihara (a.k.a. Miyavi) as the malevolent Mutsuhiro "The Bird" Watanabe, this is one heroic tale whose ending is more triumphant than its execution.  –Bret Love
RATING: PG-13 (for war violence including intense sequences of brutality, and for brief language)
GENRE: Drama
DIRECTED BY: Angelina Jolie
WRITTEN BY: Laura Hillenbrand, William Nicholson, Richard LaGravenese, Joel Coen, Ethan Coen
MAIN CAST: Jack O'Connell, Domhnall Gleeson, Finn Wittrock, Garrett Hedlund, Miyavi
STUDIO: Universal Pictures