According to 2013 research, people spend around 75% more on Mother's Day than Father's Day. That ain't right: Us dads need love, too! These days more and more fathers are stepping up to become equal co-parents. Here are a few of our favorite Father's Day Gifts this year:
FOR THE GRILLMASTER
Few things give me greater pleasure than grilling up a great meal for my family. The Father's Day Steaks & More package from Omaha Steaks makes it easy, including two 18-oz T-Bones, two 5-oz Filet Mignons, four Stuffed Baked Potatoes and four Caramel Apple Tartlets. We've loved Omaha's products for years, and have never had a bad steak from them.
I like to season mine with the BBQ Smoked Sea Salt Collection from The Spice Lab, the Florida-based company whose unique test tube gift sets include incredible flavors such as Smoked Chipotle, Carolina Hickory and Smoked Cyprus Sea Salts.
We also use the 3-Color thermometer from Steak Champ, whose LED light flashes green for medium rare, yellow for medium and red for medium well, ensuring a perfectly cooked piece of meat every time!
FOR THE OUTDOORSMAN
Our family loves to spend time outdoors in the summer, swimming, fishing and grilling out on our pontoon boat at Lake Allatoona. The new Adventurer Boat Bag from Eddie Bauer is perfect for people like us, combining earthy outdoor style with rugged nylon construction and a fully customizable main compartment designed to hold up to 50 pounds of gear.
The Vertex Plus Hard Arm Chair from Coleman is great for fishermen and campers, with a head cushion and mesh back for comfort, hard arms and sturdy steel frame for support, and 2 cup holders and a bottle opener on the arms for relaxation purposes.
The coolest/weirdest product we received this month comes to us from Chilean brand Selk'Bag, which makes sleeping bags that you wear like clothing. Their awesome new Marvel line includes Captain America, The Hulk, Iron Man and Spider-Man bags with a 45º temperature rating. Might this be the next Snuggie-style success story?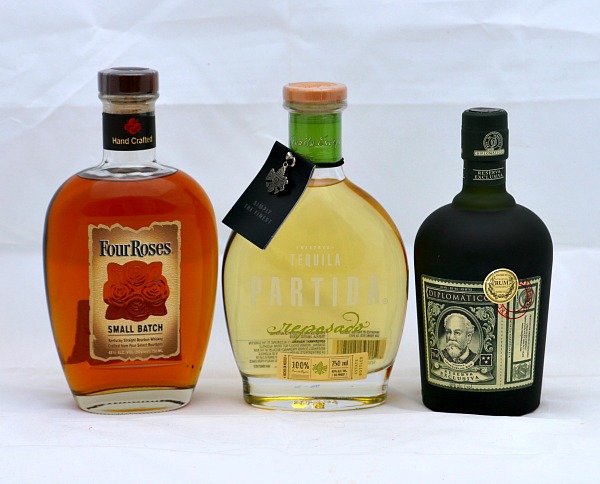 FOR THE TOP SHELF DRINKER
The older I get, the more I care about quality over quantity, especially where alcohol is concerned. The Reserva Exclusiva from Diplomático has become my favorite dark rum: Aged up to 12 years in oak casks, it offers sweetly sublime notes of toffee, maple syrup, orange and brown sugar, with a remarkably smooth finish.
The Reposado from Partida Tequila is surprisingly sweet and smooth as well, with hints of chocolate, vanilla, almond and hazelnut. It's like no tequila I've ever tasted before.
But our favorite go-to spirit is Four Roses Bourbon, whose award-winning small batch Kentucky Bourbon has a spicy, fruity nose and sweet flavors of caramel and berries.
FOR THE METROSEXUAL
Surely I'm not the only dad who digs exploring the great outdoors by day, then dressing up to go out on the town at night? The Key West Shave Gift Basket from Key West Aloe helps grizzly guys like me tame our inner beast, with exfoliating facial scrub, Tough Beard shaving cream and aftershave gel made from pure aloe vera to smooth sensitive skin.
Real men aren't afraid to accessorize, and the right piece of jewelry can tie an outfit together like a Big Lebowski rug. The Oxidized Copper Men's Bracelet from Nashelle is classic and cool, manly without the overstated bling.
I've never been big on bow ties, but Poetik Designs could make me a convert yet: From vibrantly colored stripes and bold polka dots to their signature bunny, these silk beauties offer a look of sleekly refined urban style.
FOR THE AUDIOPHILE
Music is what originally got me into writing more than 20 years ago, and it remains one of my life's greatest passions. The AT-LP60 Stereo Turntable System from Audio-Technica is an attractive update on old school turnbtables, with a built-in phono preamp that enables it to be connected directly to a computer, home stereo and other components. And it sounds even better than it looks.
The TabletOke from Vocopro is another cool modern tech twist on a classic past time: With the two wireless mics and digital mixer, you can use any Bluetooth device to stream karaoke content directly from the web and connect it to to any sound system. Pro Tip: Ply dad with the spirits reviewed above before passing him the mic!
One of my favorite new gadgets in a long time came from Boombotix, whose Boombot REX allows you to build/customize your own portable Bluetooth speaker with hi-res printing. Now, when we're hanging out at the lake, my daughter and I can kick out the jams on a speaker that features the two of us on its face… Come to think of it, that sounds like a great way to spend Father's Day!  –Bret Love
If you enjoyed our 2015 Father's Day Gift Guide, you might also like: 
The Best Coffee Around The World
2015 Spring Outdoor Recreation Guide