Released in 2002, Damien Rice's O was arguably among the most critically acclaimed debut albums ever released by a singer-songwriter.
It also provided the gut wrenching soundtrack to the rise and fall (and rise and fall and rise and fall…) of one of the most torturous romantic relationships of my life. Nobody sings songs of angst-riddled emotional conflict better than this wounded Irish troubadour and, in my eyes, O may never be equalled as an epic ode to the anguish and agony of heartache.
But a funny thing happened on the way to stardom. With Rice's extraordinary success came disenchantment, arrogance and, ultimately, the self-doubt that arises from emotional insecurity. The 2006 follow-up to his debut, 9, received mixed response from critics and fans alike. The subsequent tour brought a brutal, highly public breakup with longtime girlfriend/collaborator Lisa Hannigan.
"My relationships with the people in the band were starting to disintegrate," he recalled in an interview with Ireland's Independent. "I wasn't happy, but I was in a position where I was theoretically supposed to be happy. And if I'm not happy in that situation, then I become a miserable, unappreciative git."
For 8 years– an eternity in the ever-evolving music world– Rice seemed likely to become an indie-folk JD Salinger, not even releasing so much as a single during that time. In 2009 he told a reporter, "I would give away all of the music success, all the songs, and the whole experience to still have Lisa in my life."
It was in Iceland that he ultimately found himself again, enlisting the help of producer Rick Rubin and collaborators Marketa Irglova (Once) and Alex Somers (boyfriend/collaborator of Sigur Ros frontman Jónsi) for what would become this stunning return to form.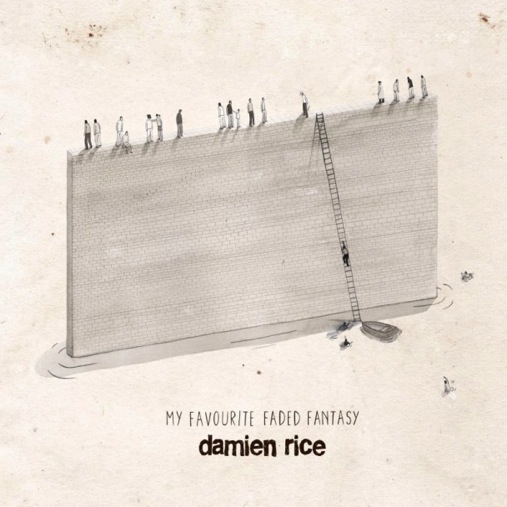 If you didn't like Rice's early epics, such as "Cannonball," "Cold Water" and "Cheers Darlin'," then My Favorite Faded Fantasy is unlikely to make you a convert. With just eight songs clocking in at over 50 minutes, the album is unapologetically arty and ambitious, giving each composition ample time and space to build dynamic tension gradually.
On the surface, not much has changed in 12 years: Rice still writes about the highs and lows of love in confessional tones that feel like stolen glimpses of his diary or eavesdropping on an intimate conversation. But in terms of the vocals and arrangements there's tremendous growth and expansion on display, from the yearning falsetto of the opening title track and the string-laden gut-punch of the 9-minute "It Takes a Lot to Know a Man" to the choir on the climax of "Trusty and True." These songs (as well as "The Greatest Bastard," another highlight) are rich with emotion and lushly detailed, revealing deeper layers with repeated listens.
In the end, Damien Rice is still just as conflicted and complicated as ever. "It's a long way back if you get lost," he sings on the closing track, "Long Long Way," which ends with the mantra, "Love is tough when enough is not enough." But the glimpses of hopeful optimism on My Favorite Faded Fantasy suggest that Rice is finally back, and perhaps ready to move on from his Hannigan heartbreak once and for all.  –Bret Love