An Israeli Jew and a West African Muslim walk into an airport…
It may sound like the opening line to a decidedly un-p.c. joke, but it's actually the true story behind this decidedly unique musical fusion pairing forward-thinking singer-songwriter Idan Raichel and Mali's Vieux Farka Touré, the son of legendary singer-guitarist Ali Farka Touré.
After a chance encounter at a Berlin airport in 2008, the unlikely duo became friends, eventually performing together in November 2010 at the Tel Aviv Opera House. The next day they entered a recording studio with Israeli bassist Yossi Fine and Malian percussionist Souleymane Kane.
The resulting 2012 album, The Tel Aviv Session, was a seamless blend of West African rhythms and Israeli melodies, with Touré's bluesy guitar and voice creating a musical dialogue with Raichel's improvised piano.
Their follow-up album was originally set to be recorded in Mali, but violent conflict in the region sent the group to Paris instead. "The situation in Mali was very tense during the period that we recorded this album," Touré told me in an interview.
"There were often demonstrations in the streets, and I could not guarantee that everything would go smoothly for Idan's trip. As a famous Jewish musician, he could be a target for the Islamists. So we decided it would be better to record this new album in Paris and then, inshallah, we can do the next album together in Mali."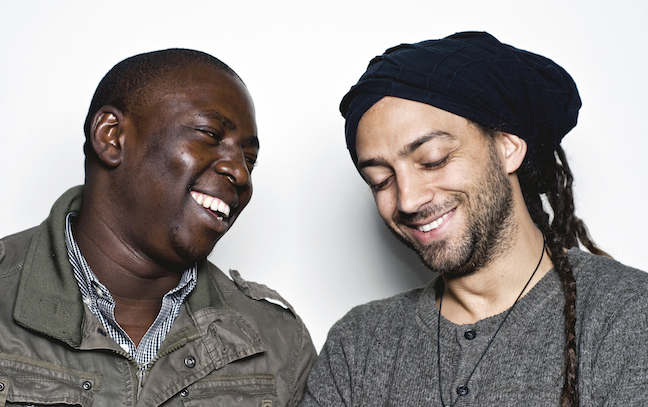 Two years of touring has tightened up their sound considerably, and The Paris Session sounds like a musical ensemble truly finding its groove, recalling Ali Farka Touré's work with Ry Cooder on Talking Timbuktu. "In every concert that the Idan Raichel Project performs, when the audience is going into the venue, they listen to this Ry Cooder and Ali Farka Touré album," Raichel says. "It's an amazing, important influence to me."
From the opening song, "From End to End," to the closing "Alla," Touré's West African blues riffs largely drive the album's sound, with nimble guitar and soulful vocals echoing a tradition that resonates from Mali all the way to the Mississippi Delta. He sounds especially strong on an exceptional cover of his father's "Diaraby," which Raichel's sparse piano updates to haunting emotional effect.
Raichel wisely focuses on complementary melodies for the most part: Only on the middle section of "Tidhar" does his jazzy improvisational piano style seem slightly incongruous to the organic musical whole. But for the most part, this is an inspired cross-cultural collaboration so stellar, you'll find yourself wondering why nobody ever thought of blending Jewish and Muslim musical traditions before. –Bret Love
If you enjoyed our review of The Paris Sessions, you might also like: 
INTERVIEW: The Touré-Raichel Collective
IDAN RAICHEL & VIEUX TOURÉ SELECT DISCOGRAPHY
2006-  The Idan Raichel Project
2009-  The Idan Raichel Project: Within My Walls
2009-  Vieux Farka Touré: Fondo
2011-  Vieux Farka Touré: The Secret
2012-  The Tel Aviv Session
2013-  The Idan Raichel Project: Quarter to Six 
2013-  Vieux Farka Touré: Mon Pays
2014-  The Paris Session