Most people who visit New Orleans rarely venture beyond the French Quarter. But if you head north from the mighty Mississippi and cross over N. Rampart Street to the area around Congo Square and Louis Armstrong Park, you'll enter Tremé, arguably among the most culturally important neighborhoods in all of America.
Formally known as Faubourg Tremé, the racially mixed area was where slaves once gathered on Sundays to play music and dance, keeping their African traditions alive. Made famous by the HBO show Tremé, this tiny 'hood was the first in U.S. history to house free people of color.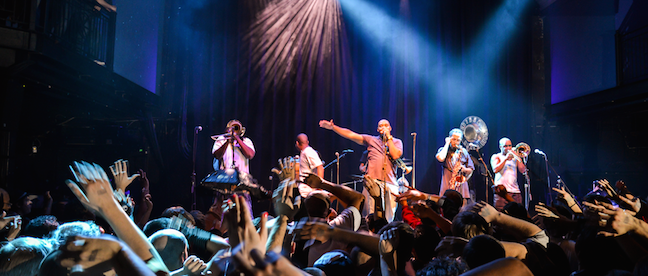 As African-American and Créole cultures combined, Tremé gave birth to many of the traditions New Orleans is famous for today, including the cuisine (gumbo, jambalaya, etoufee), the Mardi Gras Indians, and the music (a.k.a. jazz, and brass bands in particular).
Founded in 1983, Rebirth Brass Band was born in Tremé (where the founding members went to high school together), recorded its first album in Tremé, and are the standard-bearers for the sound and spirit of this culturally rich neighborhood.
Blending the second line tradition with elements of funk, soul and hip-hop, their music swings with vitality and vigor, paying tribute to the New Orleans jazz bands of yesteryear while simultaneously moving things forward with unstoppable swag.
Rebirth Brass Band's Move Your Body is an undeniably infectious treat for fans of the brass band sound. Opening with the gospel-inflected "Lord, Lord, Lord, You've Sure Been Good To Me," the album captures the raw energy of a show-stopping performance on Frenchman Street.
Original tunes such as "Rebirth Makes You Dance," "Take 'em to the Moon" and the title are relentlessly funky, insisting that you shake your ass. "Rebirth Groove" introduces a rollicking Latin jazz influence, and NOLA legend Trombone Shorty drops in for a guest spot on "On My Way." It's the closest thing I've ever heard to capturing the feeling a New Orleans street party, and it'll make you want to book a ticket to Tremé post-haste.
In the music of Rebirth Brass Brand, the raucous sound of New Orleans is continually reborn, refreshed and rejuvenated for the 21st century audience.  –Bret Love; photos provided by Rebirth Brass Band/Basin Street Records
REBIRTH BRASS BAND SELECT DISCOGRAPHY 
1984 – Here to Stay! 
1989 – Feel Like Funkin' It Up 
1999 – Main Event: Live At The Maple Leaf
2004 – Ultimate Rebirth Brass Band (best-of compilation)
2007 – Never A Dull Moment: 20 Years of… (DVD)
2008 – 25! 25th Anniversary Album
If you enjoyed our review of Rebirth Brass Band Move Your Body, you might also like:
LOUISIANA- New Orleans' Mardi Gras Indians on Super Sunday
LOUISIANA: New Orleans Historic Voodoo Museum
INTERVIEW: Ben Jaffe on Preservation Hall & New Orleans Jazz History