The rejuvenation of Walt Disney's animation arm under Pixar founder John Lasseter (who became the Mouse House's Chief Creative Officer in 2006) has been nothing short of remarkable.
Tangled, Wreck-It Ralph and Frozen (the highest-grossing animated film of all-time) have given the studio its most impressive string of hits since the early '90s, when Beauty & the Beast, Aladdin and The Lion King gave them back-to-back-to-back blockbusters.
The computer-animated Big Hero 6 (based on the Marvel comic of the same name) continues that trend, blending action, intrigue, emotion and comedy in the wonderfully seamless sort of way that we've come to associate with Pixar.
The story follows 13-year-old prodigy Hiro (voiced by Nickelodoen teen star Ryan Potter), who creates microbots– tiny robots that can link together in any arrangement imaginable– in an effort to get into a prestigious university attended by his paternal older brother, Tadashi.
After an explosion in the science lab kills both Tadashi and his Professor, Hiro accidentally activates the kindly caregiver robot his brother invented, Baymax (voiced by 30 Rock's Scott Adsit).
Where Hiro is rash and impatient, Baymax– who looks like a Japanese version of the Stay-Puft Marshmallow Man– is kind, gentle and nurturing. When Baymax follows one of the microbots to an abandoned warehouse, they discover someone mass-producing Hiro's invention, and are attacked by a masked man controlling the bots.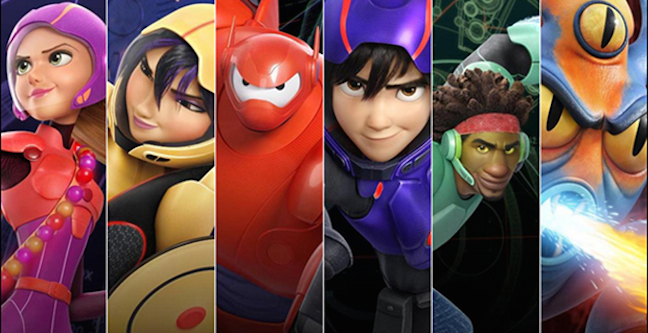 Hiro upgrades Baymax to become an ass-kicking robot, enlists the help of Tadashi's inventor friends (including wealthy fanboy Fred, voiced by T.J. Miller of HBO's Silicon Valley), and bands them all together as an oddball team of superheroes.
In the end, what could've been a dumbed-down action-adventure is instead an thoughtful, soulful, invigorating story about family, friendship, grief, revenge and teamwork. It's an Oscar-worthy achievement that builds to an intense epic climax, and a hint of sequels to come. We're there!  –Bret Love
RATING: PG (for action and peril, some rude humor, and thematic elements)
GENRE: Animation, Family-Friendly
DIRECTED BY: Don Hall, Chris Williams
WRITTEN BY:  Jordan Roberts, Don Hall, Robert L. Baird, Duncan Rouleau, Paul Briggs
MAIN CAST: Ryan Potter, Scott Adsit, T.J. Miller, Jamie Chung, Damon Wayans Jr., Genesis Rodriguez
STUDIO: Walt Disney Pictures